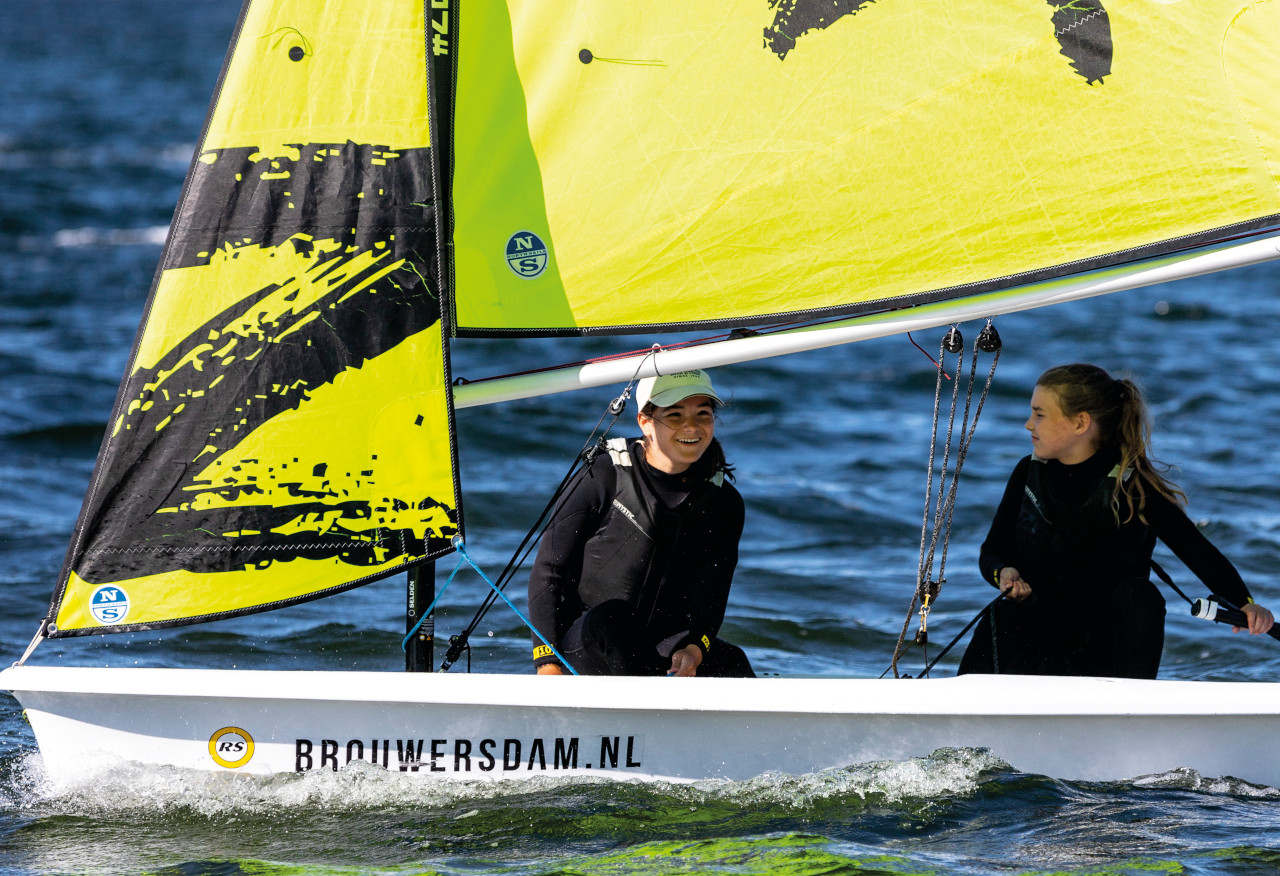 Courses
Voor elke leeftijd of vaarstijl bieden we een passende cursus, met gediplomeerde en enthousiaste instructeurs aan het roer!
Voor een zeilles schrijf je je individueel, samen met je gezin of vrienden in. De medewerkers van de receptie zullen je vervolgens adviseren over het volgen van een groeps- en/of privéles.
Zeilen met een klas, team of bedrijfsuitje? Kijk dan eens onder het kopje 'groups'. Daar staan diverse arrangementen, speciaal voor groepen vanaf 12 personen.
Aanmelden is mogelijk op de receptie, via +31 (0) 111 671480 keuzenummer 1 of Dit e-mailadres wordt beveiligd tegen spambots. JavaScript dient ingeschakeld te zijn om het te bekijken..
In de onderstaande tabel staan de diverse lesmogelijkheden met daarbij de prijzen. Klik op onderstaande buttons voor meer informatie over elk type boot.
OPTIMIST 4 x 2,5 UUR GROEPSLES € 200,- / 2,5 UUR PRIVÉ € 150,- / VDWS EXAMEN € 25,-
RS ZEST OF RS QUEST 4 x 2,5 UUR GROEPSLES € 215,- / 2,5 UUR PRIVÉ € 155,- / VDWS EXAMEN € 35,-
VALK 4 x 2,5 UUR GROEPSLES € 550,- / 2,5 UUR PRIVÉ € 160,- / VDWS EXAMEN € 35,-
CATAMARAN OF FOX 4 x 2,5 UUR GROEPSLES € 625,- / 2,5 UUR PRIVÉ € 190,- / VDWS EXAMEN € 35,-
• groepslessen: maandag t/m donderdag of zaterdag en zondag
• tijdsduur: o.b.v. minimaal 3 deelnemers per cursus
• na het volgen van een cursus in één van de volgende boten kun je deelnemen aan het internationaal erkende VDWS-examen: optimist, valk, RS zest, RS quest of catamaran
• privéles: maximaal 2 deelnemers voor vermelde prijs in een boot
• zelf meenemen:
valk en fox – warme kleding, een handdoek en eventueel een regenpak
overige boten – zwemkleding, een handdoek en waterschoenen of oude gympen (i.v.m. oesters en stenen) incl. gebruik wetsuit
Geen geschikte zeilkleding? Vraag bij de receptie of er een zeilpak gehuurd kan worden.